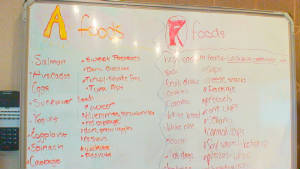 student draws "A" foods and "Flunking" foods on board
Nutrition Curriculum
©2010-2023 Kids Heart Felt Health Inc.
(Program Sample Lessons) **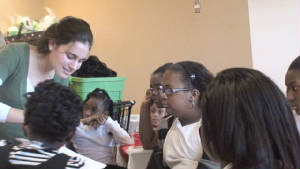 Myers Park student teaching kids how to read food labels & how to identify "whole" grain foods
"The Sweet Life"
Kids learn the difference between white refined sugar and natural sugar alternatives (including fruit, honey, stevia, and agave). They are visually shown how many spoonfuls of sugar there are in their favorite "treats" and beverages. They are also taught about the Glycemic Index and Glycemic load and how certain foods create blood sugar spikes which can affect a child's ability to learn, memorize, retain information, as well as affect a child's attention level, mood, alertness and fatigue while at school. In cooking, children are taught how to make baked good healthier by substituting white refined sugar for fruit, a "natural sugar" (which kids have already been taught, are loaded with antioxidants which neutralize disease-promoting "free radicals.")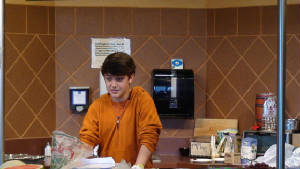 Charlotte Latin student gives nutrition lesson on "sugar" and how it affects memory & school work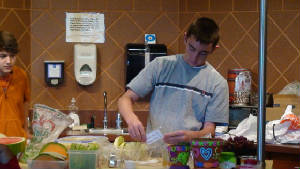 Marvin High student demonstrates amount of sugar in sodas, juices, and cookies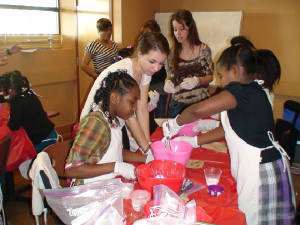 kids make pancake muffins after learning importance of eating fiber, protein filled breakfast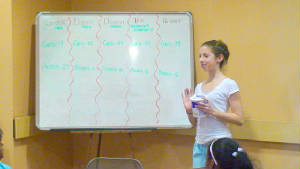 Providence Day student shows the differences in carbs and protein in yogurts
Get an "A" on Your Lunch Box: Brain Boosting Foods
There is scientific evidence that certain foods promote brain health. These foods not only help improve memory, but can help kids focus better, and better control their behavior while at school. We also know that highly processed foods are detrimental to our health. Kids will learn how to identify both "Smart" foods and highly processed foods, and will create their own Japanese-style "Bento" lunch boxes filled with healthy brain boosters. They will also learn about the typical Japanese diet (one of the healthiest country's in the world), and will learn about Okinawa, where the largest population of centurions currently live.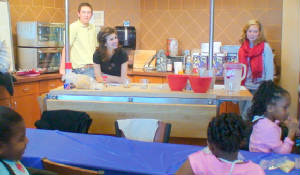 Providence Day student explains foods that will make children smarter, pay more attention at school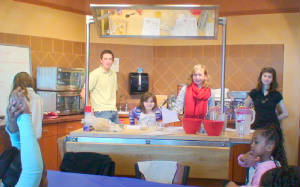 South Meck student explains nutrition content of Lunchables varieties
**Please contact us if you would like more information about our complete curriculum and nutrition lessons. We would be happy to assist you.