AUGUST RECIPES
RED RAINBOW "LYCOPENE" LUNCH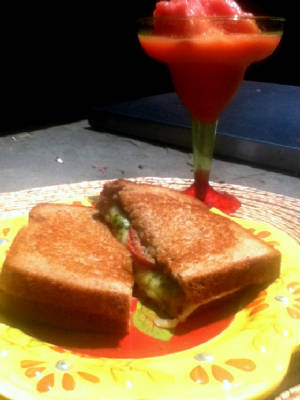 ---
GRILLED CHEESE WITH ROASTED TOMATO BASIL PESTO

WATERMELON PEACH SLUSHIE

---
August is the perfect time of year to enjoy in-season produce – and to teach your kids about the powerful antioxidants found in their favorite fruits and vegetables. In the Kids Heart Felt Health program, we encourage kids to "eat the rainbow" every day, as each color in the rainbow represents different antioxidants and phytonutrients that can protect their health. This month's recipes feature lycopene – the powerful antioxidant that gives tomatoes and watermelon their "red" color. Studies have shown that lycopene protects the body from heart disease and certain cancers, particularly prostate cancer. Lycopene also protects cells from damage caused by aging and disease.
---
In order to release the lycopene found in tomatoes, they should be cooked or processed. Lycopene is also "fat soluble" so food should be prepared with some fat in order for the body to absorb, or use, the lycopene found in produce. The slice of cheese, as well as the olive oil, serves this purpose. Basil (although not "red") is also a significant source of lycopene and is included as a spread in this recipe.
---
Watermelon – a childhood favorite – contains an even higher concentration of lycopene than tomatoes, and does not need to be cooked to release its antioxidant properties. In this recipe, watermelon is combined with another "star" fruit of summer – peaches (another good source of lycopene) – which gives our slushie a smooth consistency.
---
So moms, if you are tired of your kids eating the same old boring grilled cheese, try this "Lycopene Lunch" for a tasty change – and you will feel good that you are protecting your children's health at the same time.
---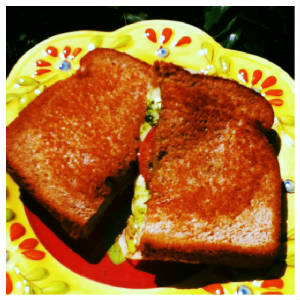 GRILLED CHEESE WITH ROASTED TOMATO PESTO

Ingredients
• 2 slices whole grain bread
• 1 slice freshly grated Jarlsberg Cheese
• 1 medium fresh tomato
• 1 tbsp. minced shallot
• 1 tsp. minced garlic
• Pinch salt
• 1 tbsp. extra virgin olive oil
• Fresh Basil Pesto*
• 1 Tbsp. butter
---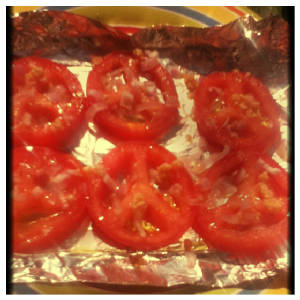 To Prepare:
1. Slice tomato, being careful to remove seeds (kids are picky about eating these).
2. Place sliced tomato on tin foil (turn up edges of tin foil to create a tin foil "pan").
3. Sprinkle sliced tomatoes with shallot, garlic, salt, and olive oil and roast in oven at 300F for 30 minutes.
4. Once tomatoes have cooled, blend into the Fresh Basil Pesto*.
5. Spread pesto on first slice of whole grain bread. Set aside.
6. Melt butter over Medium Low heat, removing excess butter for the top of the grilled cheese sandwich.
7. Place second slice of whole grain bread in pan, along with cheese and 2 tomato slices (if your child does not like tomatoes, omit them here, as they are blended in the Pesto).
8. Place first slice of pesto bread over cheese/tomato and spread excess butter on top.
9. Flip until cheese is melted.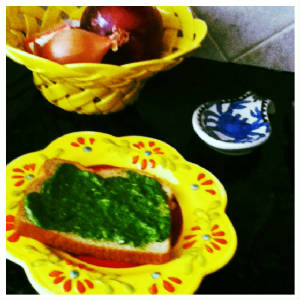 *Fresh Basil Pesto (with Roasted Tomato)
• 2 cups packed fresh basil leaves
• 2 cloves garlic
• 2/3 cup extra-virgin olive oil, divided
• 1/2 cup Parmesan cheese
• ¼ cup pine nuts (optional)
• Oven roasted tomatoes

--------------------------------------------------------------------------------

1. Blend all ingredients until smooth.
2. Place extra pesto in a Ziploc bad, flatten, and freeze. Simply break off a piece of pesto when needed.


--------------------------------------------------------------------------------

©2012-2013 Kids Heart Felt Health Inc.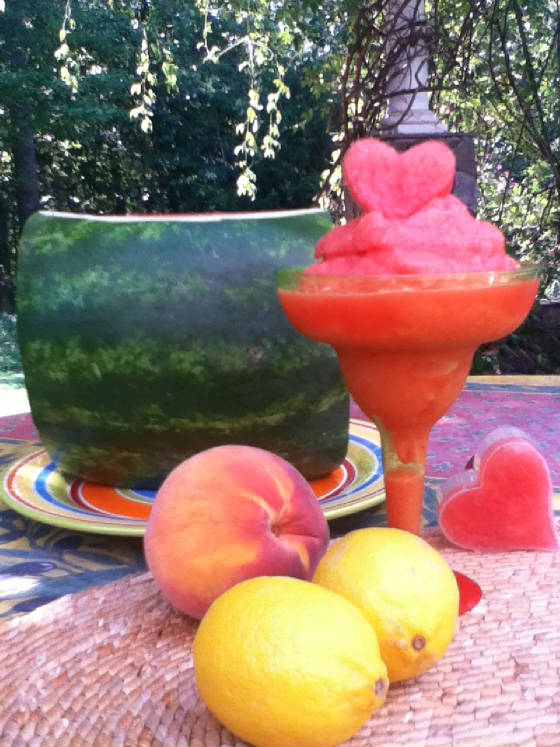 WATERMELON PEACH SLUSHIE


Ingredients:
• 2 cups frozen cubed Watermelon
• 1 fresh Peach (peeled)
• 4 heaping Tbsp. crushed pineapple (in its own juice)
• 2 Tbsp. freshly squeezed lemon (about 1 whole lemon)
---
1. In advance, cut fresh watermelon into cubes and freeze in Ziploc bags.

2. Blend all ingredients and serve with fresh watermelon wedges.
---
©2012 Kids Heart Felt Health Inc.