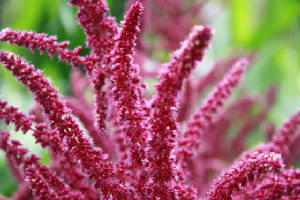 This month's recipe features Amaranth, a gluten-free heart healthy whole grain packed with protein and fiber. Amaranth's numerous health benefits have been extolled in many countries. In Greek, amaranth means "everlasting"; in India, it is called "the king's grain"; and in Aztec civilization, it was known as "food of immortality." It is no wonder. Amaranth has cholesterol-lowering properties critical for heart health. It is also high in calcium, iron, magnesium, and potassium. Amaranth contains 30% more protein than wheat flour, rice, and oats and is considered a "complete" protein. This obviates the need for other sources of protein to meet daily requirements, including animal protein, which is typically high in fat and cholesterol. Amaranth also slows the absorption of glucose in the bloodstream, which reduces insulin levels and makes it easier for the body to burn fat. For more information about amaranth and its health benefits (including clinical studies), visit the Whole Grains Council website, where amaranth is the featured grain this May in recognition of Celiac Awareness Month.

www.wholegrainscouncil.org
---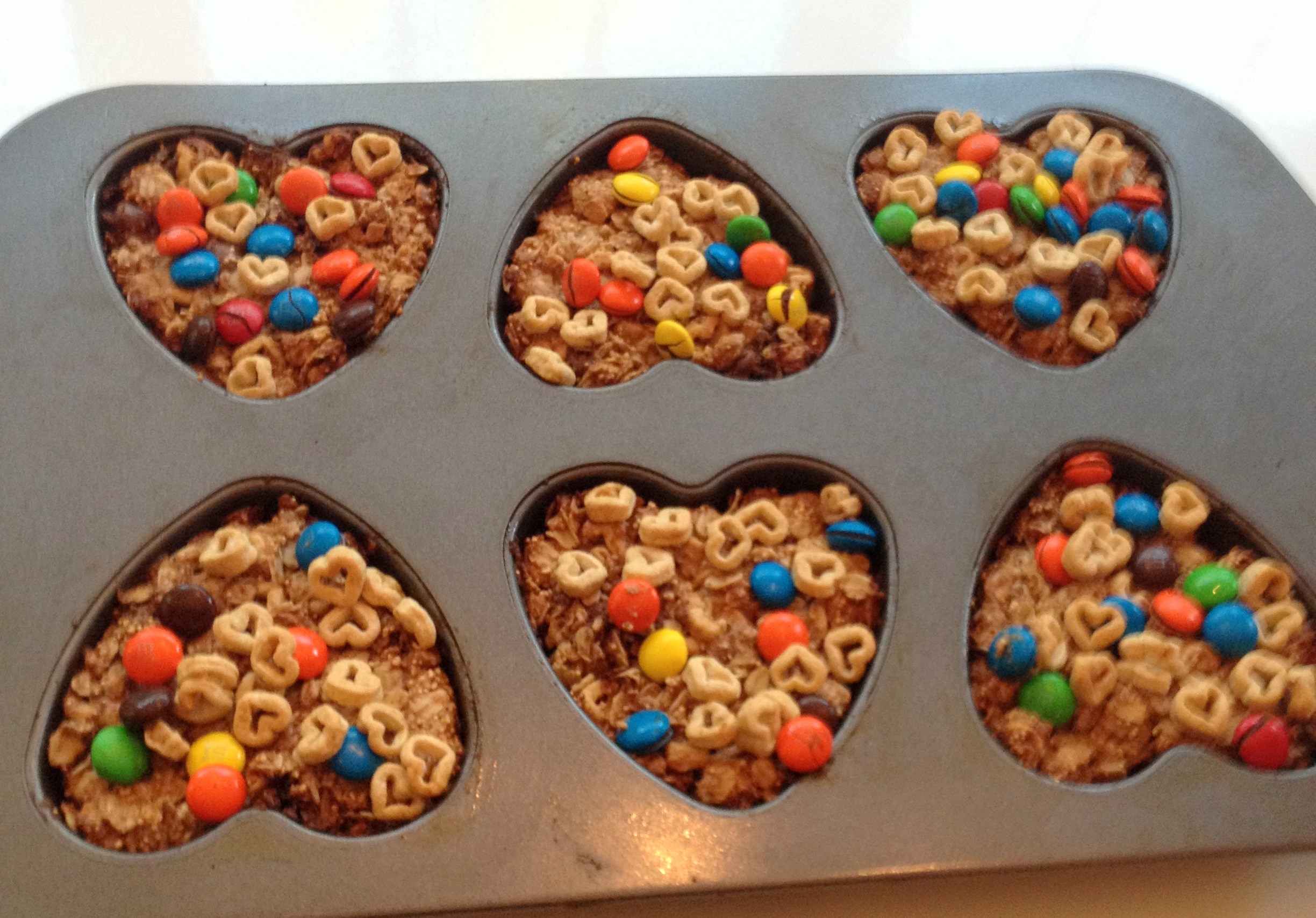 3-GRAIN AMARANTH "POP STAR" BARS
---
Ingredients:
½ cup "popped" amaranth*
2 cups quick oats
1 cup puffed rice cereal [if you don't have rice cereal, substitute more oats]
1 tsp. cinnamon
¾ cup dark chocolate covered prunes or dark chocolate covered raisins
3 Tablespoons extra virgin raw coconut oil or unsalted butter
¾ cup raw or roasted unsalted almond butter
¼ cup organic honey [Tip: spray measuring cup & spatula with cooking spray; honey will not stick and will pour easily from measuring cup]

---
1. Preheat oven at 350F.
---
2. Lightly grease an 8 inch square baking pan with cooking spray.
---
3. *"Pop" amaranth grains: For amaranth to "pop" without burning, a saucepan must be heated over medium high heat for approximately 3 minutes before adding the grains to the pan. Once the pan is heated, add only 1 tablespoon of amaranth at a time to the pan. Make sure the amaranth is spread evenly in the pan and continuously stir the amaranth or move the saucepan back and forth until all grains have popped. Immediately remove popped amaranth to a bowl. Repeat until all grains have "popped."
---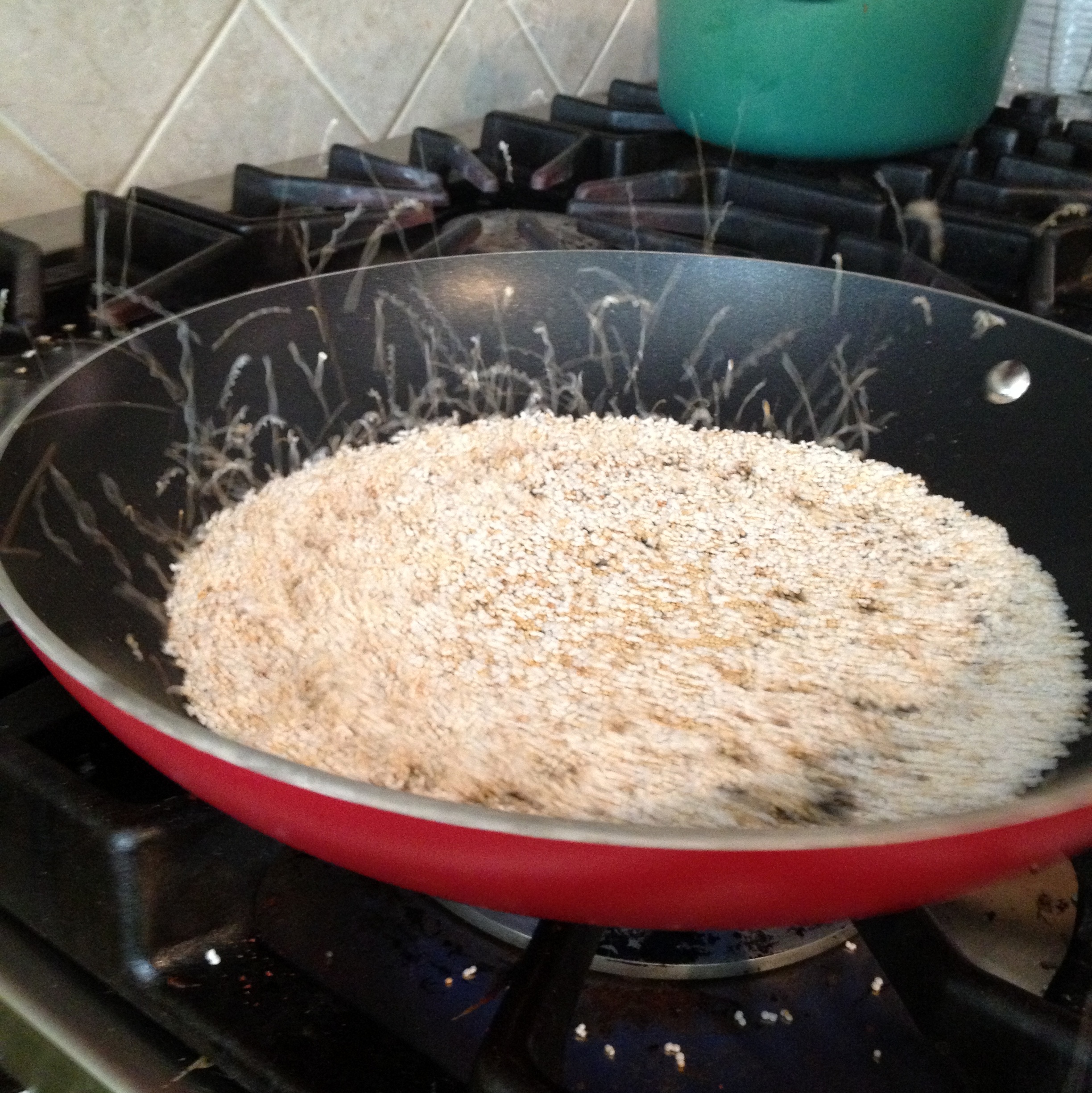 Popping Amaranth
4. Mix together popped amaranth, oats, puffed rice cereal, and cinnamon in a bowl and distribute evenly in baking pan.
---
5. Melt oil or butter over Medium heat and mix in honey until just beginning to boil. Remove from heat and stir in the almond butter.
---
6. Pour almond butter/honey mixture over whole grain mixture and combine thoroughly.
---
7. Scatter chocolate prunes/raisins throughout mixture.
---
8. Add almond butter/whole grain mixture to baking pan and press all ingredients firmly in pan.
---
9. Sprinkle dark chocolate M&Ms over top of baking pan (if desired).
---
10. Bake for 15 minutes until lightly browned.
---
11. Cool to room temperature or cool in freezer for 20 minutes if in a hurry.
---
12. Cut into squares when completely cooled.
---
JULY RECIPE - ZUCCHINI "SPAGHETTI"
AUGUST RECIPES - ROASTED TOMATO GRILLED CHEESE, BASIL PESTO, WATERMELON PEACH SLUSHIE
SEPTEMBER RECIPE - OATMEAL CINNAMON RAISIN PANCAKE MUFFINS
OCTOBER RECIPES - WHOLE WHEAT VEGGIE PIZZAS, QUICK SAUCE, CHIA SEED JELLO
FEBRUARY RECIPE - CHOCOLATE BEETROOT CUPCAKES
MARCH RECIPE - QUINOA FRUIT SALAD